Connecting with Nepal: Midlanders help rebuild school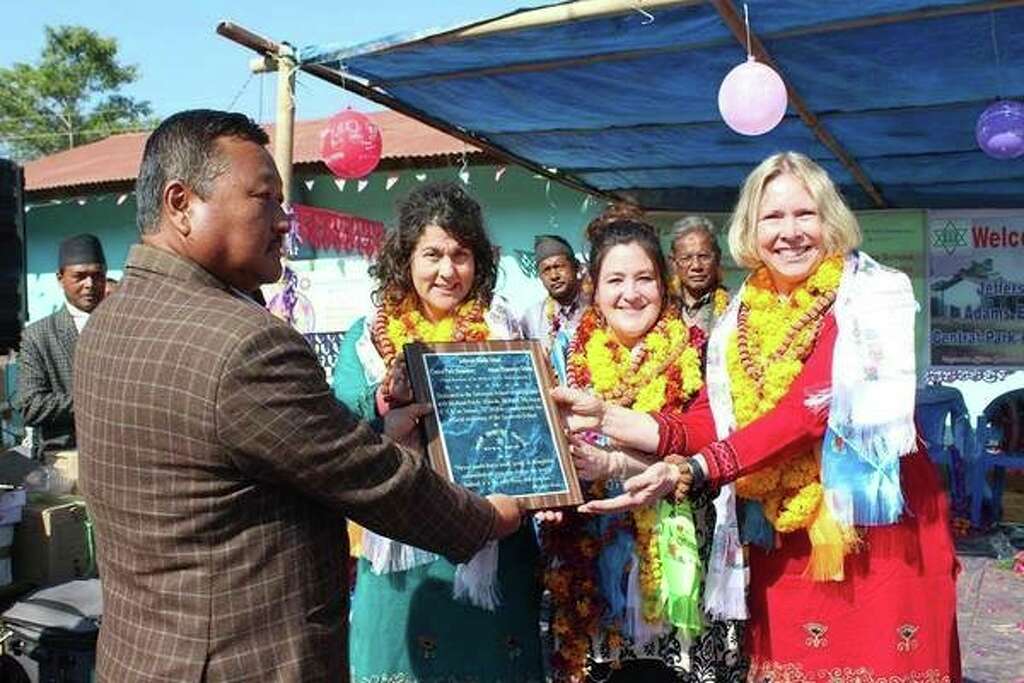 A "global action project" aimed at helping a village in Nepal rebuild its school has led to a new international connection for Midland Public Schools -- and a life-changing journey for two MPS teachers.
"It never would have been on my radar in a million years," Kim McMahan, Spanish teacher at Adams and Central Park elementary schools, said recently. "It's one of the defining moments of my life."
McMahan and Karen Staley, a sixth-grade science and reading teacher at Jefferson Middle School, traveled to Nepal Jan. 11-21 to attend the opening and dedication ceremony of the Saraswati School in Wana, Nepal, along with Midlanders Dave and Marcia Shannon, who first approached Staley and McMahan with the idea of a "Nepal Project" last September. The trip was made with the help of the Midland Area Community Foundation.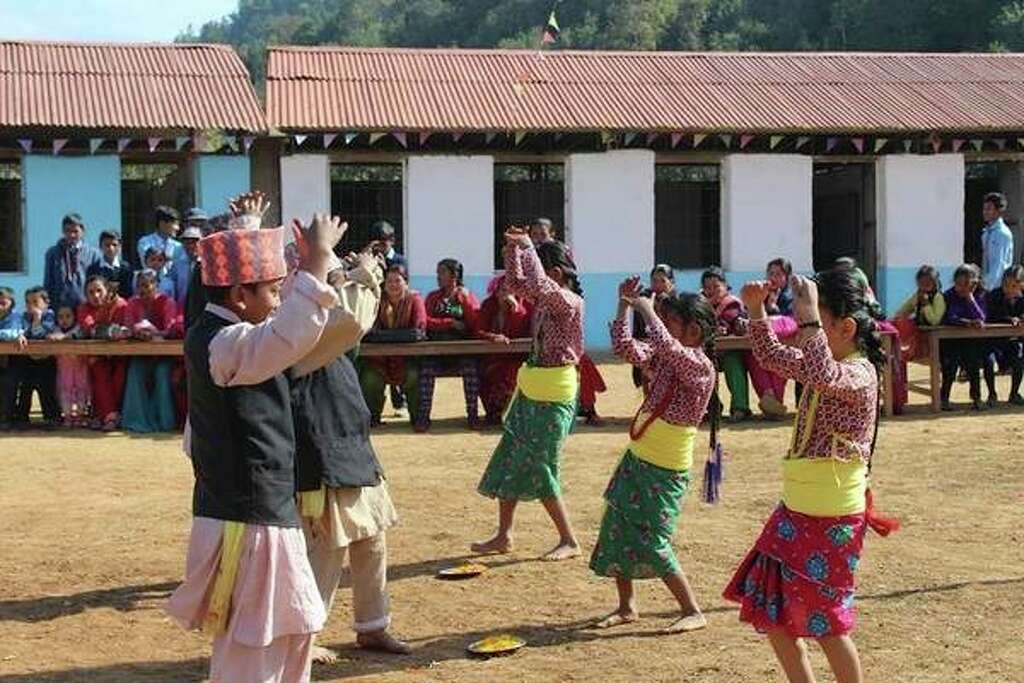 "It was amazing, it wasn't like a 'trip,'" McMahan said. "It was meaningful -- they met us with flowers and plaques. They wrote a song for us and did a dance for us."
It took the group about 26 hours to get to Wana -- traveling to Pennsylvania to Qatar to Nepal, then taking a small plane on Yeti Airlines to get closer to the village.
"We flew past Mount Everest -- we got to see that clear as day," McMahan said.
To get to the village, the group traveled along one-lane mountain roads in Range Rovers.
The Shannons had previously been to Nepal and knew about the village of Wana and its school, which was in serious disrepair from a 2015 earthquake. What started as an effort to raise $5,000 to rebuild the K-8 school ended up raising $14,000.
McMahan and Staley each lead a "Culture Club" at their schools, aimed at broadening global understanding among students. Staley said the MPS students were able to see that they "literally changed the life of these students and teachers and parents in this village. ... Now they're the envy of those around them. (MPS students) truly, truly made a difference."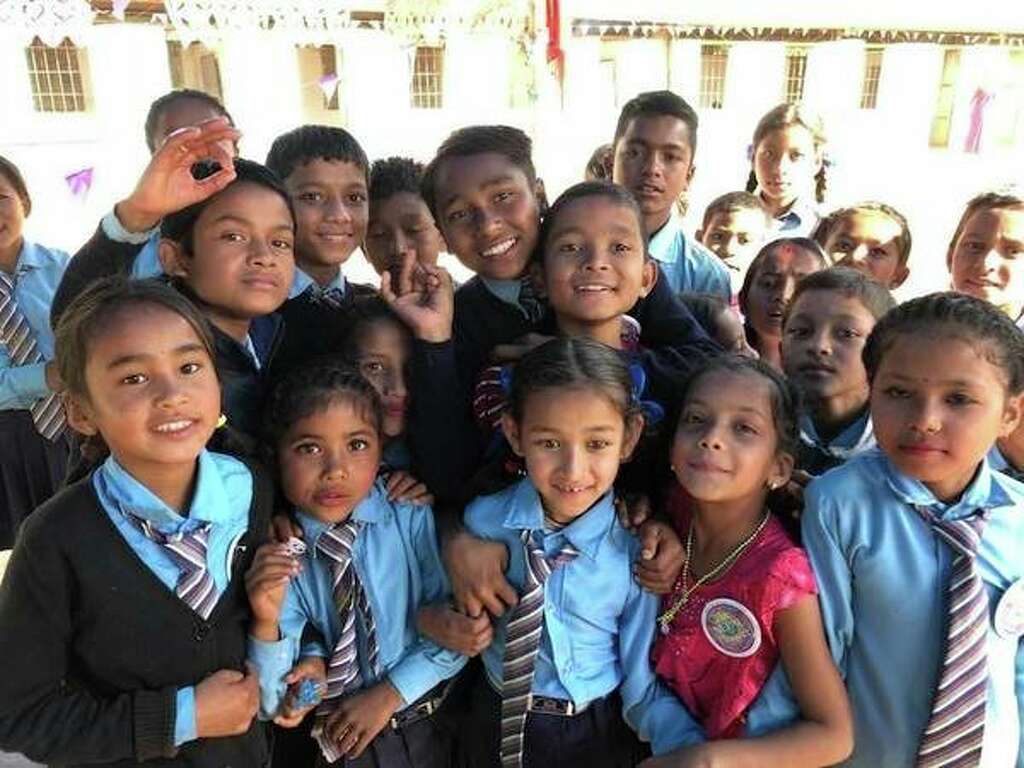 McMahan described the Saraswati school as it was before the rebuilding project: "The roof was leaking -- they were mostly having school outside. They had no water."
The funds raised enabled the construction of a new, safe building with a safe water supply; school supplies; a media center; and Wi-Fi.
Staley had the opportunity to teach a math class at the Saraswati school and realized that math "really is a universal language," with discussion of sales prices, discounts and percentages coming through to students despite the language barrier.
She also found that local teachers wanted to know, "How do you teach?"
"They don't have the resources and strategies that we do. ... They want to know more about it."
An interactive Google page (https://sites.google.com/midlandps.org/the-Nepal-project) allowed Staley to answer her Jefferson students' questions while she was in Nepal (although not in live interactions -- there is an 11-hour time difference).
"My goal was to bring it home ... when they do something like this they really impact lives," she said. "It's totally meaningful to them how these kids can get an education and make their way out of poverty."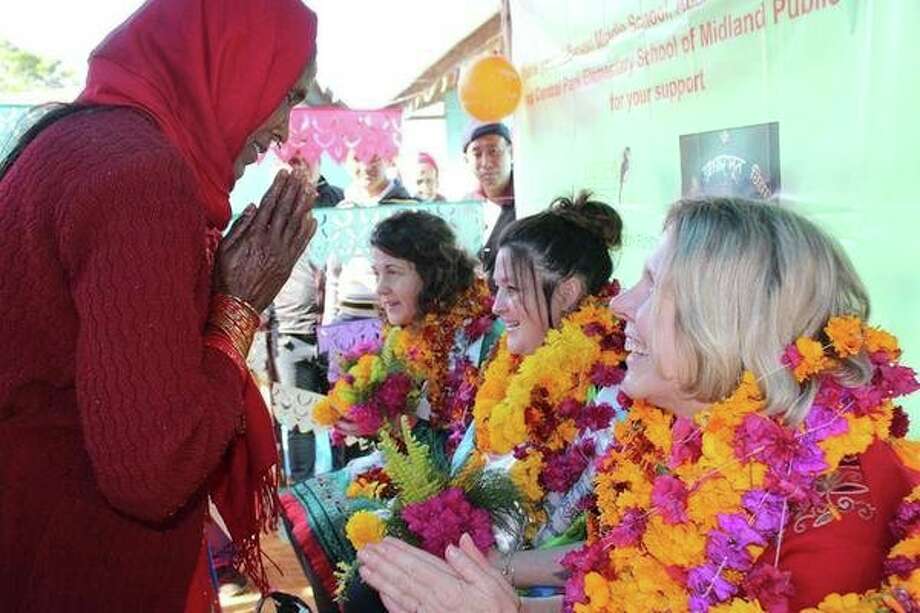 McMahan said the Nepal project has made a second-grade curriculum unit on water conservation and pollution come alive for students.
"They have a connection, a personal reason they want to learn about disease and how people stay healthy in Nepal," she said.
Helping make the connection was Narayan Shrestha of Ann Arbor-based Earth Preservation Fund/Journeys International, who managed the project in Nepal and shared updates and photos with the MPS contingent as the work progressed.
The journey allowed the teachers to establish what they hope will be a long-term relationship with their counterparts in Wana. Plans for further help for the school and the village are being discussed; among the possibilities are updating the Wana school's outdated science lab and exploring whether to take a group of MPS high school students for a follow-up visit.
In the meantime, Staley's Jefferson Culture Club is broadening a current project to devise business solutions for small businesses in developing countries. "They are working with businesses in African countries right now and we plan to then use a similar platform to help the Saraswati school in Nepal come up with ways to sustain their school," she said.
However the Nepal connection may ultimately affect MPS. It already has had a big impact on McMahan and Staley.
"It changes the way you look at things," Staley said. "If we could just get our kids to appreciate education the way (the Nepalese students) do, we would rock this world."


News Source: ourmidland.com